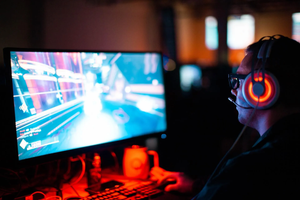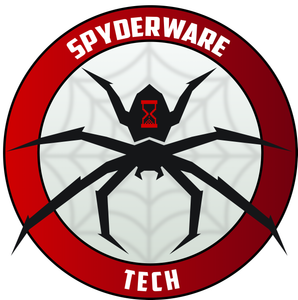 Join a Community
The gaming community is massive! This stadium is packed for a professional E-sports match. When you decide to join the gaming community, you are joining millions of people like you. Just interested in watching? We love having cheering fans and supportful onlookers. Join a team today!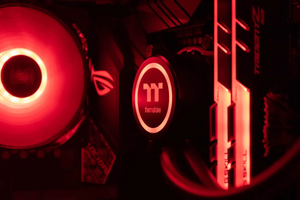 Don't Let Lag BUG You
We have only the most top-of-the-line tech at Spyderware, so that you will never have to worry about lag, memory issues, wireless connectivity, or any other technical issues that plague many gamers. It feels like playing like a pro when you play at Spyderware, and that's because we treat you like a pro.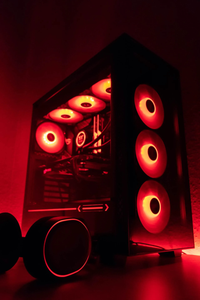 Top of the Line
We have the newest gear in gaming, so that you can always be up to date. Everything from our PC processors to our responsive keyboards and mice, we have everything you need for hours of comfortable gaming. Even our chairs are nice and comfortable!
We've also got all of the hot new games, and plenty of classics as well! If you're looking for an FPS (First Person Shooter), an RPG (Role Playing Game), or a Battle Royale-styled game, whatever genre you are looking for, we have it!
Just a few of the games we have:
Call of Duty
Valorant
Fortnite
Overwatch
Diablo
World of Warcraft
Dungeons and Dragons
Pokemon
And more!
FAQs
What is Spyderware Gaming?
We are the area's number one PC gaming space! We have top of the line tech and an awesome space for you to spend hours gaming by yourself or with your friends. When you come to Spyderware Gaming, you are also becoming part of a community of other PC gamers. Make friends, challenge yourself and others, form a team, and maybe even compete for money! Our PCs are state of the art, and all our accessories are cutting edge technology, to improve your PC gaming experience. If you are an avid PC gamer, or even if you are just starting to explore the world of PC gaming, Spyderware Gaming has everything you need to climb the ranks of your game of choice. We have a wide range of games in many genres, including the most popular hits of today, and some classics that will never be forgotten. Come to Spyderware Gaming and upgrade your gaming experience.
What games do you have at Spyderware Gaming?
The most common games that are usually played at Spyderware Gaming are first-person shooter (FPS) games, role-playing (RPG) games, battle royale games, sports games, strategy games, and fighting games. Of course we have more than this, but these are the games that draw people to Spyderware Gaming: Call of Duty, Fortnite, Overwatch, Valorant, World of Warcraft, Pokemon, Diablo, Dungeons and Dragons, Magic the Gathering, plus a ton of virtual reality options. We also have your typical sports games like FIFA or Madden, and some popular fighting games like Nintendo's Super Smash Bros and Mortal Kombat. Whatever game you are looking for, we will have it, or get it in stock for you soon.
What is "esports"?
Esports, or electronic sports, is an organized, online video game competition that is played around the world. The competitors make up teams or leagues to play against one another in popular, multiplayer video games. Many of these players are paid, making esports as legitimate of an industry as the NBA or NFL. While Spyderware Gaming doesn't have a team or a league, we know that even the most experienced players need some time to play by themselves in a low stakes environment to practice. We have the best technology, so if you are a professional gamer you won't be falling behind, and if you are a recreational gamer, you get to feel treated like the pros do.
Do I have to be a certain rank to play at Spyderware Gaming?
No you do not need to be a certain rank to play at Spyderware Gaming. We highly suggest anyone who wants to increase their gaming skills to become professional gamers come by and up their game on our PCs, but even if you are brand new and only a casual gamer, we will welcome you to the community. We want those who are passionate or curious about gaming to come to Spyderware Gaming. We also promote an environment of positivity, to avoid toxic players and harassment, so if you are unsure if you are "good enough", we assure you that we have people of every skill level playing with us, from beginners to pros.
Why not just play at home?
We believe that having a great gaming community can make or break your gaming experience. By choosing to come to Spyderware Gaming, you are joining a community of like-minded people who want to share their love and knowledge. If you played online at home, you may be surrounded by toxic or mean-spirited players. We don't encourage that behavior at Spyderware Gaming. We are a closer-knit community of gamers with the experience to help propel you toward whatever kind of experience you are looking for. If you are a high-level gamer, you may have some of the best technology in the gaming industry, but we have all of the cutting edge equipment to match your level of gameplay, or even improve your gameplay. And if you are a casual gamer, our servers and processors run so smoothly that you will never have to worry about infuriating lag or disconnections that may turn a lot of people off from casual gaming.
How do I sign up to play?
If you want to join our community, you can simply stop on by! If you want to learn more specifics about what games we have, what tech we use, and more, you can reach out to us directly through our contact form on this website. You can also call (830) 387-9387 or email amarkle77@gmail.com.
What equipment do you use for gaming?​
We are a PC gaming company, so we, naturally, use PCs for our gamers. We don't have consoles at Spyderware Gaming. If you are a console player looking to transition to or explore PC gaming, we have the best technology to make that transition as smooth as possible.
Does it cost me anything to play?
There are natural expenses when it comes to gaming. If you are paying for a personal account, or subscription you already have certain costs associated with your gameplay. Please contact us for more information!
What if I do not want to participate in gaming, but I want to watch?
That's awesome! We love having cheering fans and supporters. You can absolutely come and engage in the gaming community and become part of the atmosphere of Spyderware Gaming. We do ask that if you plan to watch that you don't engage in toxic behavior towards players, or try to intentionally disrupt their gameplay experience.
What are the benefits of online gaming?
Online gaming can help a lot of gamers become more social and interactive with other players. Gaming generally helps people come out of their comfort zones and helps them think more rationally, strategically, and creatively. A lot of gamers are young folks, men and women, who want to relieve stress from a long day at school or work, and playing online video games helps them out tremendously.
What is the best way to contact you if I want more information on Spyderware Gaming?
If you are wanting more information about Spyderware Gaming please reach out to us through the contact form on this website, or you can call (830) 387-9387 or email amarkle77@gmail.com.